Client Comments
Client Comments
Writing and Editing
I've worked with many writers and editors over the years, and nobody comes close to Joan Marie Galat's talent, professionalism, and cheerful personality.
Jena Snyder, Clear Lake Ltd.
Joan is a talented editor and collaborator who can craft effective business documents from contributions submitted by diverse stakeholders. She turns the facts into an interesting and professional read that would appeal to a wide professional audience.
Brenda Nylund, Owner, Brenda Nylund Consulting Services Inc.
Joan is a joy to work with. Her writing was very well done and delivered on time. We asked her to review a number of proofs and go through many detailed questions, all of which she did quickly and thoroughly.
Taryn Boyd, Whitecap Books
Joan is very client-oriented and has proven her interview and writing skills time and time again. Speaking of time - she is always on time!! Like all true professionals she can be trusted to deliver high quality product with simply a verbal contract.  Joan is so personable that the working relationship becomes a friendship right away.
Colin Bamsey, Clear Lake Ltd.
Joan is not just good at what she does, she is a rock star! We are proud to be associated with such a great individual, she is an exceptional writer and gifted author. You will not be disappointed in allowing Joan to collaborate on your next research project or marketing effort. You only have one chance to make an impression, make it count, Joan delivers!
Darrell Gushta, President, REVCOR Developments Group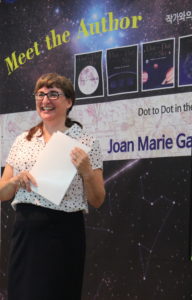 Two things about Joan that I have found most impressive. First, her high writing calibre characterized by a genre versatility that allows her to serve clients from a wide range of settings. Her own literary accomplishments and her rich portfolio of writing work for organizations demonstrate her passion and professionalism for what she does best - writing.
Second, Joan has always impressed as having this easy ability to work with her clients as "one of us." How she operates and presents as a hired writer/editor in a work meeting strikes a perfect balance of being collegial when she so naturally blends into the "shop talk" and then of being an expert/consultant when she dishes out convincing and persuasive writing advices and ideas. Her personality makes her a very enjoyable writer/editor to work with.
Eugene Ip, Norquest College
Joan is an engaging writer whose work has added a great deal of depth to the Alberta College of Social Workers' professional journal, The Advocate. Her regular news features and profile series "A Day in the Life" are highlights of the magazine; while her attentive editing keeps the standard high for other submissions.
Lynne Dulaney, Director of Communications (consultant), University of Calgary
Presentations and Workshops
Joan is a great guest speaker who has a passion for and knowledge of the environment. She captivated the audience with her engaging and inspiring speech at the United Nations Environment Programme Rendezvous of the Arts. It was a pleasure to work with Joan and I would definitely recommend her.
Sue H. Kim, United Nations Environment Programme (UNEP) Korea
I want to thank you for the delightful presentation you gave us 
Friday
 night, after our AGM – and especially for bringing your rocket! What an immediate example of a way to promote yourself in a dynamic way. It was a wonderful talk.
Saturday's
 workshop was every bit as entertaining and informative. You gave us an enormous amount of information in a relatively short amount of time, interspersed with some of your most interesting anecdotes, and laced with just enough writing exercises. The time flew all too quickly.
On behalf of CAA – Alberta Branch, and from me personally, thank you so much.
S.E. Ingraham, President, CAA - Alberta Branch
Thank-you for sharing your time with us. When I made it home, I recounted my evening with my husband. I said, 'Now here's a woman who kicks ass—if she doesn't know something, she finds out; if she wants to go somewhere, she makes the trip!" Joan, you were inspiring and motivating with your great attitude and bottomless determination. As well, your speaking style was lovely, totally captivating.
Shannon 
I attended your Christmas writing workshop at Spruce Grove Library in December which I thought was fantastic. Our family front page newspaper went back home to Australia and I received some great feedback from family and friends.
Franca Cooke
Joan is a knowledgeable instructor who has great rapport with students.
Angela Wiens, Meridian Communications
We could immediately put into practice what we learned! We were a fair size group, with a diversity of backgrounds and requirements, attending a workshop presented by Joan Marie Galat. She was exactly the right person to speak to our group.
Joan took a concept and applied her knowledge and skills appropriately to "our project" and backed it up with a workable template that was actively discussed, involving all participants. All in attendance left with a workable format in hand allowing them to work independently or in a group experience—to immediately implement the skills acquired.
Shirley Westendorf, Mayerthorpe Library
Joan is an quintessential speaker for a post-secondary audience. She has a natural eloquence, a gift with relevant anecdotes, and an impressive store of experience and knowledge to share. My class of second year professional writing students were intensely engaged from the start to the finish of her 45-minute talk; their only complaint was that the class ended too soon! They wanted to ask more questions.
The students - many of whom are uncertain about the directions they'll take in their own writing careers - were especially impressed with Joan's sheer breadth of writing endeavors and her willingness to follow many different threads of opportunity; she rolls through disappointments and makes the most of successes. Joan opened their eyes to possibilities that had never occurred to them before, and showed the rewards that come from a consistently positive attitude and steady perseverance.
She really made a difference for my students and I hope to have her as a regular guest speaker in the Professional Writing program in the future.
Christina M. Grant, MA English Instructor MacEwan Professional Writing program, MacEwan English BA program, and NAIT Liberal Arts program
I sincerely recommend Joan as a guest speaker, as I have known her to clearly display much confidence, preparation, and experience in the field. Her down-to-earth demeanor is also a definite plus, as people immediately like her!
Janis Schole, Freelance writer
Joan's writing courses and editorial support are invaluable services to writing groups and individuals. She shares up-to-the-minute information and offers personalized guidance while providing professional advice about current trends, markets, and industry standards.
Leanne Myggland-Carter, Spruce Grove Public Library